The most difficult challenge facing businesses today is managing data and meeting customer expectations. Understanding user behavior is more important than just delivering products to any company.
CRM's primary function is to collect and store data that is both accessible and understandable. However, managing such a large amount of data is difficult.
As CRM struggles to keep up with and manage a massive amount of data, AI steps in.
AI-powered CRM solutions are being considered to overcome the challenge of data management.
AI's importance in CRM is undeniable. If we look at Google Trends over the last five years, we can see that the impact of AI on CRM has been enormous.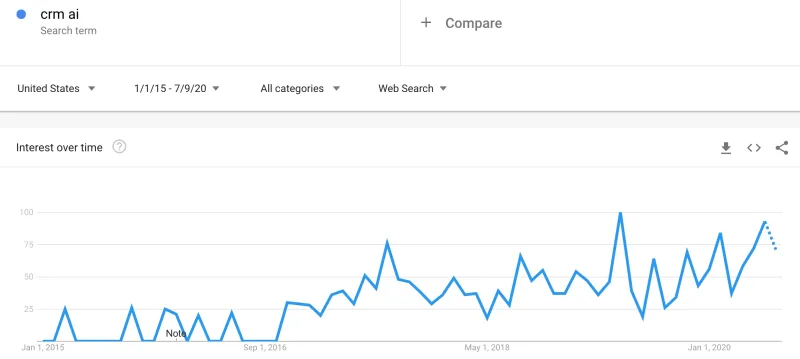 The most difficult challenge facing businesses today is managing data and meeting customer expectations. Understanding user behaviour is more important than just delivering products to any company.
As a result, businesses prefer AI-integrated CRM tools to automate sales and service tasks.
Integrating AI with CRM, on the other hand, has been the most revolutionary step thus far. AI predicts customer behaviour and expectations when you launch a product.
In simple terms, artificial intelligence within a CRM automates client outreach, making it easier to handle clients more efficiently. This helps to maintain a long-term relationship with customers.
Intelligence is a term that describes a machine's ability to learn, investigate, and assist in the same way that a human can. Deep learning and machine learning are the two main components of AI development services.
The Impact of Artificial Intelligence on CRM Operations:
Despite the fact that technology and innovation have enabled us to create unusually skilled machines, AI still faces some reservations. Some points that will help you understand the role of artificial intelligence in CRM operations are listed below:
1. Everyone's Personal Virtual Assistant
When Customer Relationship Management is combined with AI, your employees' efficiency and productivity will increase. It will essentially act as a virtual assistant for all of your agents and as a remote helper.
A virtual assistant can assist with managing and automating client reactions, interactions, meeting scheduling, follow-ups, and other manual tasks. Tools that can record and take notes in meetings, for example. Access calendars and schedule meetings, among other things.
Customer data such as demographics, user behaviour, life span transactions, and so on are fed into CRM. It learns and directs the above-mentioned functions by intelligently processing and infusing advanced-level algorithms. In layman's terms, it eliminates all administrative duties and separates workflows, reducing human error.
2. Data collection that is automated
CRM tools have made new customer acquisition easier thanks to the automated data capturing feature.
The benefits of gathering user information while onboarding without any human interaction are numerous. Whatsapp, Facebook, and Twitter are the most popular contact platforms at the moment. CRM views these platforms as a way to connect with clients and collect data without having to physically enter any data.
This automated data collection aids organisations in anticipating user behaviour, allowing them to strategize and customise campaigns accordingly.
This customization, with the help of AI developers, can help advance a positive brand image and genuine enthusiasm for each client. All of this contributes to the generation of leads, the expansion of the business, and the improvement of overall service.
3. Data Segmentation and Customized Communication
If algorithms are not used to make sense of all the raw databases, the process of data capture mentioned previously will be futile.
Machine algorithms can take over all information, including purchase history, demographics, and web behaviour. This will aid in segmenting users based on their unique characteristics and characteristics.
By integrating artificial intelligence with CRM, the system can learn from previous experiences and generate more quality leads through proper user segmentation.
Customer relationship management software will aid in the collection of concrete data by optimising functions such as personalised messages, appropriate timing, and prompt response via the appropriate channel. Because you'll know exactly what they respond to and have the data to back it up.
There are numerous cloud CRM solutions available to assist with this separation.
For instance, website traffic will be one segment, and the number of users who reached the checkout page will be another. Now the communication mode and language should be different; one user group will receive a message asking, "Have you tried XYZ?" while the other group will receive a message asking, "Products waiting in the cart." This will make the entire user experience more personalised.
4. Client Maintenance and User Retention
The main issue that organisations face after acquiring new users is user retention. With CRM, on the other hand, you've gathered data from a variety of activities that you can put to good use. Working with this data and using artificial intelligence can help you fill in the blanks and create user personas based on communication preferences, gender, and monetary value.
You'll know when and how to contact the user thanks to personas. You can also receive updates and alerts about user segments that are no longer active or hot leads. And the most effective way to contact them.
This will improve transactional and operational efficiency, as well as customer loyalty and retention. It will eventually increase the percentage of users who stay and reduce the time spent on the site.
5. Data Analytics for Cohorts and Lifetime Value
Simulated intelligence, as previously mentioned, automates the engagement process and helps to understand designs, predict approaches, and outcomes. But, regardless of company size, what makes organisations stand out and smarter is the ability to have one-on-one interactions with customers. However, if you have a lot of data, it can be difficult.
For a better understanding of user cohorts and calculating their lifetime value, data must be cleaned, arranged, aligned, and investigated to make the process easier. A cohort is a group of users who share a common characteristic that can be discovered in Analytics.
Customer lifetime value (LTV) is a prediction of the net profit associated with a user's entire relationship in marketing. It will assist you in separating the successes and failures of all your campaigns until a customer is associated with you. Proper analysis of this metadata will aid in forecasting the future course and significantly increase sales.
conclusion
By replacing traditional methods, artificial intelligence is rapidly changing business acquisition and retention techniques. When AI is combined with CRM software, it streamlines the process and saves time by eliminating the need to repeat tasks.
Businesses can collect reliable data that they can manage and use for centralized interactions with the help of CRM's powerful data. Overall, AI is required for CRM to adapt and thrive in the digital transformation era.
Are you considering incorporating AI into your CRM services? The best AI companies in India can assist you in determining your needs and integrating AI into CRM software. Signity Solutions is one such company that provides customers all over the world with the best AI development services. Hire our developer outsourcing team and contact us right away!!